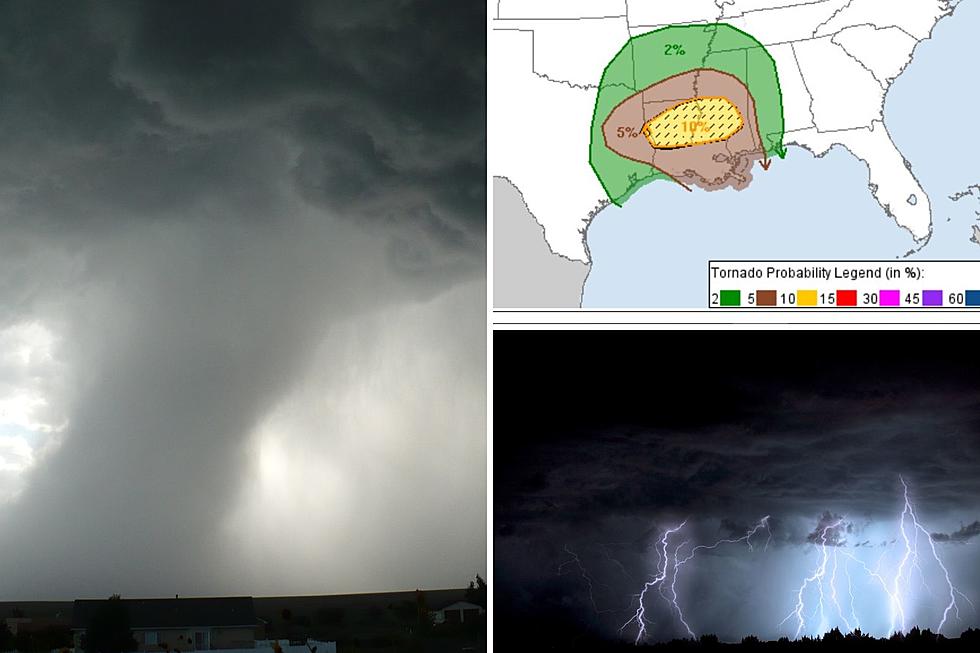 Significant Tornado Outbreak Possible Monday in Texas & Louisiana
SPC/Canva
It's been a while since East Texas has been in the target zone of upcoming severe weather. But, the Storm Prediction Center (SPC) in Norman, Oklahoma is warning some residents of Deep East Texas and much of Louisiana that some nasty stuff could be on the way.
A strong cold front will be moving across our area on Monday. That boundary will be kicking off widespread storms across the Pineywoods. Damaging winds in excess of 60 mph, hail, and tornados are possible in some of these storms. The SPC is also warning that some of those tornados could be strong, which means winds greater than 111 mph.
The hatched area across northern Louisiana and the eastern portions of Sabine and Shelby Counties are included in the zone that could see the stronger tornados. However, anyone living in east and northeast Texas should be aware of possible severe weather.
Even though 'tornado season' in East Texas is in the Spring, the secondary season is usually in November and December, that's when the first cold fronts of the winter season start pushing through.
You may recall the EF3 tornado that struck the east side of Lufkin on December 23, 2009. It caused extensive damage to Kit McConnico Park with winds estimated at over 127 mph. Hopefully, we won't have anything like that from this storm system.
Timing of the Storms
The National Weather Service is forecasting the strongest of the storms to hit the Lufkin/Nacogdoches area throughout the afternoon hours on Monday. Rain chances will be around 90%, and we should get anywhere from half an inch to an inch of rain, with the possibility of isolated higher amounts.
Rain chances will diminish through the evening hours with colder air filtering in. Temperatures will reach the 70s on Monday, but highs will only get into the 50s on Tuesday.
For updates and alerts, download the KICKS 105 App. 
Damage from Hurricane Ike
A look back at the damage along Galveston and the Bolivar Peninsula from Hurricane Ike. The storm was a category 2 hurricane that brought damages in excess of $30 billion. All pictures are from Getty Images.
Gallery Credit: Danny Merrell