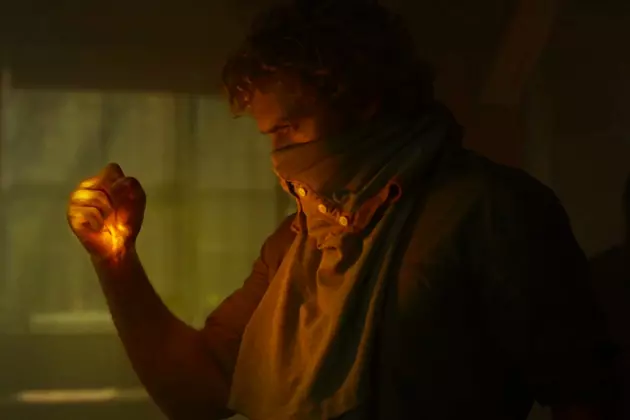 'Iron Fist' Probably Won't Get a Costume in Season 1
Marvel / Netflix
The Netflix Defenders have an on-and-off relationship with costumes, between Daredevil spending the whole of Season 1 justifying the red suit, while both Jessica Jones and Luke Cage poked fun at their comic counterparts' familiar attire. Iron Fist might have landed somewhere in the middle, but according to the showrunner, Danny Rand isn't likely to don green and yellow anytime soon.
Naturally, Iron Fist footage to date has concentrated on Finn Jones' Danny Rand acclimating to his return home, only utilizing his incredible skills in moments of need. We wouldn't necessarily have expected the character to start fashioning anything reminiscent of his comic jumper just yet, though showrunner Scott Buck tells SFX (via GamesRadar) that Season 1 likely won't attempt a costume at all:
There was no good reason we could imagine to put Danny Rand in a costume. Because Danny Rand is still discovering who he is as a hero and where he is going to be, so he's not yet ready to put on a mask or a costume.
Prior trailers have shown Danny to cover his face with a bandana at one point (notably the lower half, as opposed to the comic look), though Buck did at least stress that Iron Fist Season 1 would underline a reason for Danny to guard his identity:
[A]t the same time he is someone who is rather well known as a billionaire, so he can't necessarily go out in public and do the things he does without being recognized. It does become an issue for the character.
First photos from The Defenders haven't seen Danny in any kind of costume either (the EW photoshoot amusingly referenced the look with a green collared shirt), but will The Defenders miss out on its chance for an iconic shot of the four heroes outfitted in their Sunday best? Might Danny's costumed career wait until a potential Iron Fist Season 2?
Check out the latest Iron Fist previews below, and stay tuned for our forthcoming review before the March 17 premiere.