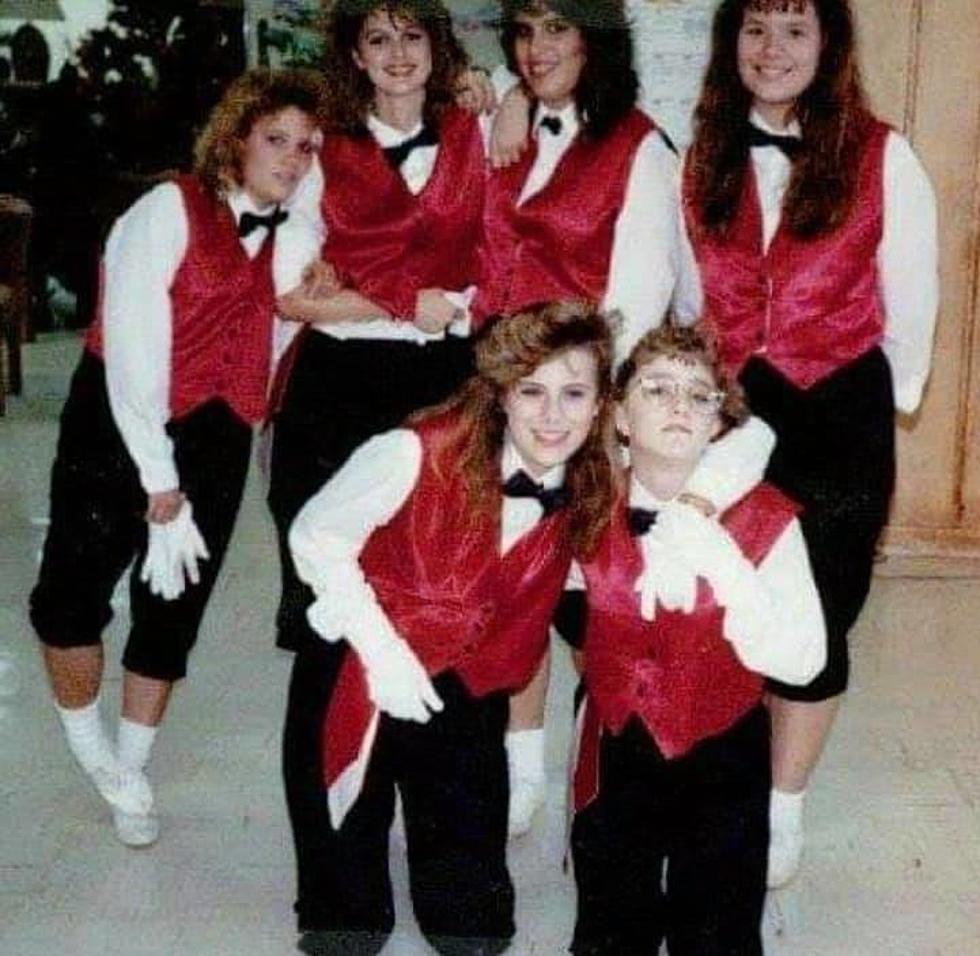 Top Signs You Were a Haughton Buc in the Late '80s/Early '90s
Bonita Huckaby Avila
Yesterday, I got a notification on Facebook about my 30th high school reunion along with the rest of the class of 1992 at Haughton High School! Like many of my classmates, we instantly felt OLD! Then they started talking about having a talent show and I'm not going to lie, I got scared!
If you grew up in Haughton and went to dear ol' Haughton High School in the late '80s/early '90s, there are some very specific things that shaped your high school experience! One of those for me was being on the flag line. In fact, a few years ago I reconnected with one of my fellow teammates, Bonita Huckaby, and we've had a blast reminiscing about all things Haughton... Except for those uniforms. Yikes! Yes, those are the ones I'm talking about pictured above!
It feels like yesterday, but during the pandemic, I went by the school specifically because they had started demolition on the old Haughton High School auditorium. Truth is, it should have been condemned while we were there, but it was still bittersweet to see it being torn down.
Who can forget our beloved Principal 'General' Jane Smith? She ruled HHS with an iron fist, but she was fair and always supportive of her students. However, there wasn't anything frostier than her stare if you got sent to the front office, other than your own frosted locks... We were all 'frosted flakes' back in the day, even the guys!
Naturally, every girl at HHS had a full-size can of Aqua Net in her purse to make sure her hair achieved maximum volume at all times and that was one of the reasons why our AFJROTC program was so successful... In addition to patriotism and a large military presence in our area, of course! The truth is, most girls would take rather join ROTC than sweat off their makeup and mess up their hair in gym class. (Yeah, I'm guilty, too)
I never understood why people always thought we were such a country school back in the day... After all, we had a WALMART! Plus, Benton was the real country school.
Minden was Haughton's rival, not this silly Parkway rivalry we have now... and when homecoming week came around, we marked the occasion by making signs, going to bonfires, pep rallies, and the big game, NOT by chugging milk.
Any Haughton student from back in the day knew that Short Stop french fries were the best and that a Saturday night at Bodcau Dam was the stuff of legend. Who can forget sneaking off to swim in the 'blue hole?' (I still want to know where it is today. I forgot that bit of information over the last 30 years.)
Back in the day, we didn't have texting or social media, we had to pass notes and hope that Mrs. Bell or Coach Guin, in his short coach's shorts, wouldn't catch you! Not that I minded those shorts;)
Of course, the drinking age was 18, which meant the Whiskey Still on Hwy 80 did brisk business with the Haughton crowd selling Mad Dog 20/20, Purple and Pink Passion, etc... that was way back when you could hit the drive-thru for a mixed drink and Cowboys had kickboxing and concerts in the parking lot and we'd do our best to sneak in!
More wholesome activities consisted of our annual Sadie Hawkins dance, parties at the Country Place clubhouse, and taking over Eastwood... and its golf carts!
I've stretched my feeble brain far enough. What are some of your recollections from the late '80s/early '90s from Haughton High School? I definitely remember that being a member of the Highsteppers meant you were the 'ish... Too bad I never made the team... Or the cheerleading squad for that matter. Oh well. I guess I was a late bloomer?
Read More: The 12 Best Reasons To Live In Bossier Parish
Read More: 10 Worst Intersections in Shreveport-Bossier
Read More: Shreveport-Bossier's Most Unique Landmarks