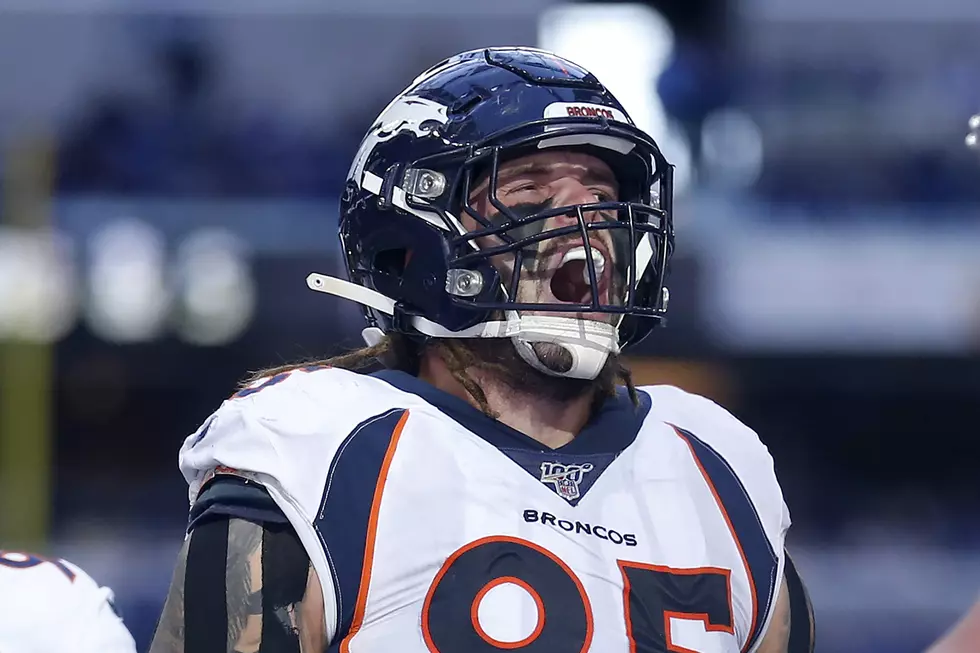 Former NFL Player Kills Dangerous Mountain Lion With Bow and Arrow
Photo by Justin Casterline/Getty Images
His last name is Wolfe, but he hunts lions.
Former NFL defensive end Derek Wolfe played 10 seasons in the NFL, winning a Super Bowl with the Denver Broncos in 2016.
Now retired, Wolfe spends time hunting, and apparently, the hunting includes apex predators.
Wolfe shared his latest hunting story on Instagram, which involved killing a giant mountain lion with a bow and arrow.
"Late Tuesday night I got a call from @huntnest to see if I wanted to stalk a giant Tom (male mountain lion) who has been wreaking havoc in a rural neighborhood. He had already killed two of her dogs and was living under her porch, nervous what he might do next. We found a fresh 4x4 mule deer he had just killed. We hiked straight up 2500ft and down the other side, then back up again, back down the other side and then back up again to 9600ft. Exhausted, dehydrated, cramping I drew back my @hoytbowhunting and sent an @sevrbroadheads through him. Then I had to crawl backwards down the mountain with him to get him to the truck I fell 10ft off a rock face on the way down lol. Any guess how big this thing was?" - Derek Wolfe
That lion is huge, and according to Wolfe, had already two pet dogs in Grant, Colorado.
Wolf was listed at 6'5, 284 pounds during his playing career. The lion is longer than he is.
In IG comments, Wolfe estimated the beast was around 195 pounds, which is surprising considering how big it is in the photo.
States with the most registered hunters
Stacker
analyzed data from the U.S. Fish and Wildlife Service to determine which states have the most registered hunters. Read on to see how your state ranks on Stacker's list.
LOOK: Best Beers From Every State
To find the best beer in each state and Washington D.C., Stacker
analyzed January 2020 data from BeerAdvocate
, a website that gathers user scores for beer in real-time. BeerAdvocate makes its determinations by compiling consumer ratings for all 50 states and Washington D.C. and applying a weighted rank to each. The weighted rank pulls the beer toward the list's average based on the number of ratings it has and aims to allow lesser-known beers to increase in rank. Only beers with at least 10 rankings to be considered; we took it a step further to only include beers with at least 100 user rankings in our gallery. Keep reading to find out what the best beer is in each of the 50 states and Washington D.C.