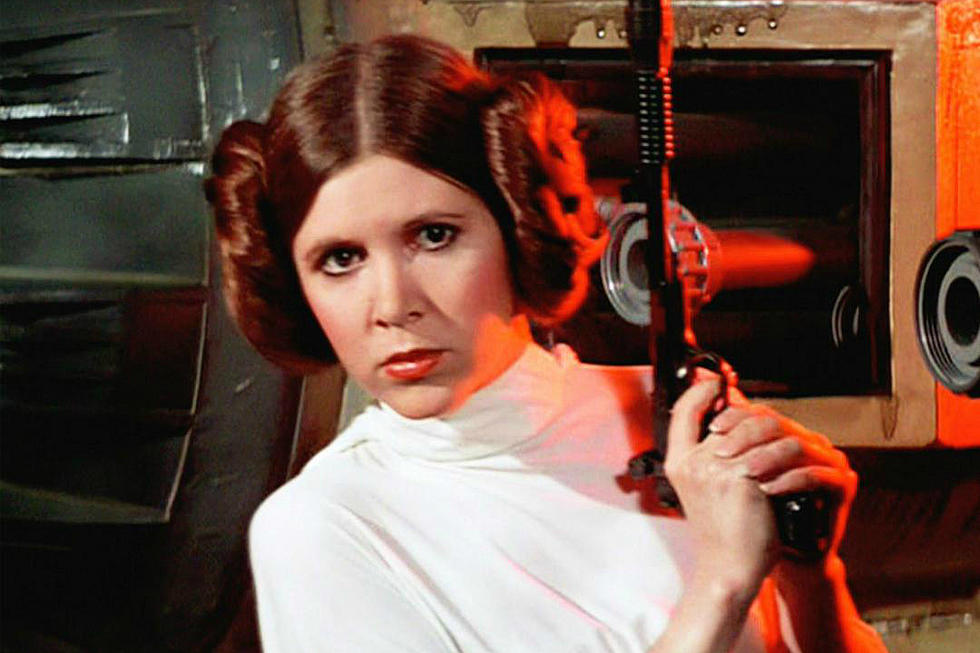 Carrie Fisher Thought Her 'Rogue One' Cameo Was Actual Footage From 'A New Hope'
Lucasfilm
The final few moments of Gareth Edwards' Rogue One are jam-packed with surprises. First Darth Vader storms onto the scene wielding his red lightsaber, which the director revealed was a last-minute addition. Then Princess Leia suddenly appears to acquire the Death Star plans. Not everyone was a fan of the CGI-created Leia – some of us here at ScreenCrush found the visual effect to be a bit creepy – but most importantly, Carrie Fisher gave the scene her blessing.
The Star Wars spinoff recreated the young General Leia Organa in her classic A New Hope garb using a mixture of motion-capture (performed by Ingvild Deila) and CGI. The late actress got a chance to see her character's cameo before the movie hit theaters. "We wanted Carrie to be happy," Edwards said in a new interview with Fandango ahead of Rogue One's digital and Blu-ray releases on March 24 and April 4, respectively. Lucasfilm president Kathleen Kennedy went to Fisher's house to show her the footage. When the actress saw the scene, she thought it was real footage of her from the 1977 Star Wars movie:
We had about two weeks left, and Kathy went around her house and everyone was waiting to hear. [Kathy] said she showed it to her and [Carrie] thought it was footage. She didn't realize it was CGI. She thought we had some footage. She didn't remember the take and thought we had manipulated a take from the original film. But they told her it was all computer generated and she was really impressed. We were all just so pleased she approved it.
Not only must it be wild to see yourself brought back to life on-screen 40 years younger, but imagine how crazy it would be to actually believe it was you! It's a relief Fisher was so happy with the scene, but it's also good to know the studio doesn't plan to resurrect her likeness in the future. Fisher completed all of her scenes for The Last Jedi, but the studio reassured fans a CGI Leia wouldn't appear in Episode IX. Now we'll just have to keep biding the time until the first trailer for The Last Jedi arrives. The film hits theaters December 15.