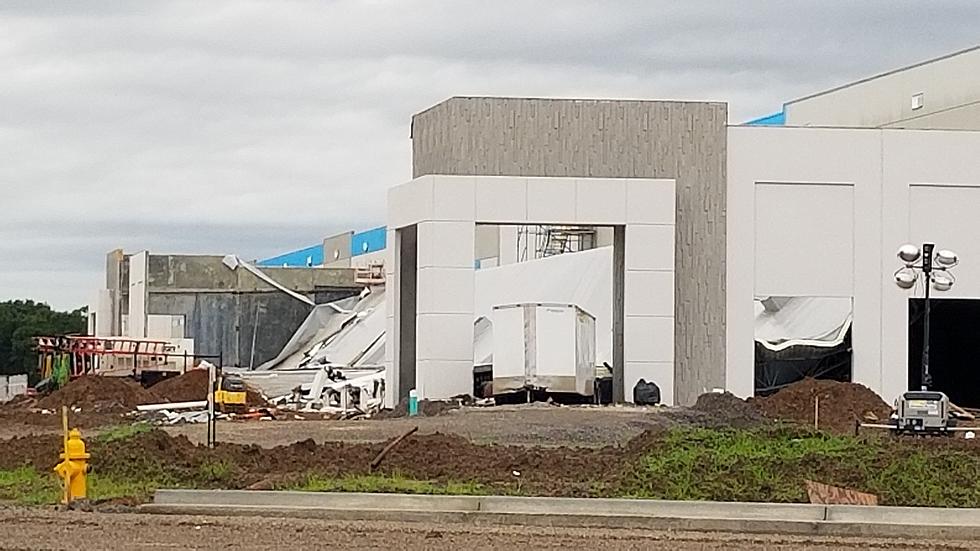 Carencro Amazon Facility Suffers Collapse
listener-submitted photo
Monday's storms knocked down part of the Amazon Fulfillment Center under construction in Carencro.
Photos shared with our news partner KATC show some of the damage at the facility.
According to Police Chief David Anderson, firefighters and police officers responded to the facility minutes after the collapse happened. Anderson says his officers told him people were on site when the collapse happened. How many people were there at the time is unknown. Anderson says the officers and firefighters left the scene shortly after arriving to attend to other problems created by flooding in the city.
Acadian Ambulance was dispatched to the scene, but officials tell us they were called off before they arrived.
Officials who spoke to KPEL on the condition of anonymity told us Amazon is investigating to find out what exactly caused the collapse and the extent of the damage. Those officials said the company won't know if the construction process will be delayed until it completes its investigation.
KPEL went to the construction company's on-site office at the Amazon location at the old Evangeline Downs property. A security guard met our reporter at the gate. He said the construction manager was in a meeting and was not able to speak with our reporter. The security guard took the reporter's phone number and said he would pass it along to the construction manager.
As of the time of this publication, we have not heard back from the construction manager or anyone else affiliated with the project. We will update this story if and when we hear from officials with Amazon or the construction company.
SIMPLE THINGS ACADIANA CAN'T GET RIGHT