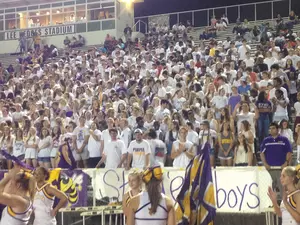 Byrd Rallies Past Calvary In Season Opener
Byrd High "The Hive"
Mike Suggs and his C.E. Byrd Yellow Jackets and Rodney Guin's Calvary Cavilers met at Lee Hedges Stadium Thursday night for the first game of the season. These two teams filled up the stat sheet and lit up the scoreboard in a exciting back and forth offensive battle.
Calvary jumped to an early 10-0 lead late in the first until Byrd quarterback Cameron Felt dashed for a  45 yard touchdown run to make the score 10-7. Calvary scores again on a screen pass to Mason Woodle for the Cavilers to go up 17-7. Byrd answered quickly with a 2 yard touchdown run by Lawson Jackson to make it 17-14 going into halftime.
There was so much scoring in the second half I could not even keep up with who did what but the final score was C.E. Byrd 42, Calvary 32.
QB #11 Cameron Felt: 2/2, 41 passing yards, 7 rush, 74 rush yards, 2 TD
RB #3 Charlie Barham: 21 rush, 148 rush yards, 1 TD
RB #1 Jalin Thomas: 14 rush, 79 rush yards, 1 TD
RB #20 Lawson Jackson: 6 rush, 36 rush yards, 1 TD
DB #4 Chondrick Lofton: 8 tackles
DB #38 Taranjit Singh: 6 tackles
DE #40 Luke Slabaugh: 3 tackles
QB #3 Cade Hart: 19/30, 374 yards, 2 TD, 1 INT
RB #25 Kordavian Washington:17 rush, 133 rush yards, 3 catches, 110 rec yards, 3 total TD
WR #10 Fredrick Davis: 8 catches, 165 rec yards
WR #2 Mason Woodle: 3 catches, 43 rec yards, 1 TD