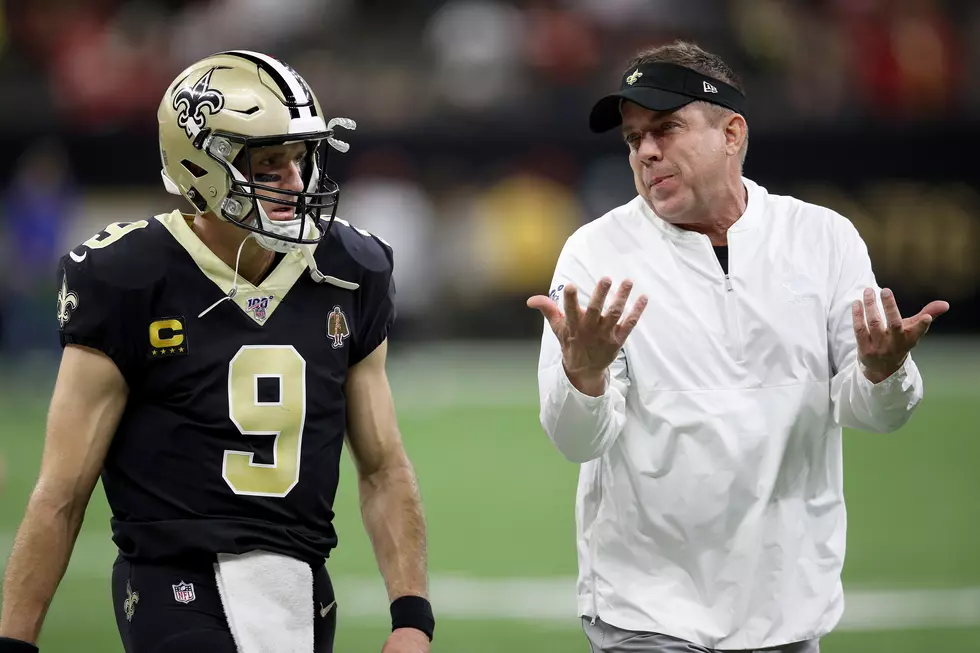 Brees & Payton Are Gone: What's Next for the Saints?
Photo by Chris Graythen/Getty Images
If you're a fan of the New Orleans Saints, the 2021 season may be the last time the Who Dat Nation has a winning season for a while. Future Hall of Fame Quarterback Drew Brees is gone. Sean Payton announced earlier this week that he's stepping away from the Saints. Plus, on top of those major hits, the Saints have no quarterback, limited draft picks and no salary cap space. In short, it's going to be a hard rebuild for whoever steps up to fill Coach Sean Payton's shoes.
Who Will Be the Next Coach for the New Orleans Saints?
The first order of business for the Saints is to hire a new head coach. Sean Payton was long touted as an offensive genius and one of the most creative playcallers in the NFL. So, whoever the Saints hire, will have some big shoes to fill. The early frontrunner on everyone's list is Saints DC Dennis Allen. Players love Allen, he's served as interim head coach multiple times while Payton had to miss time due to COVID and he has HC experience from his time with the Raiders.
Beyond that, the Saints have already requested an interview with Tampa Bay Offensive Coordinator Byron Leftwich. And the Saints organization says they will search within the organization and outside to find their next head coach. Could it be Allen, Leftwich or one of the other big names out there? Could they look to the college ranks to find the next 'offensive genius'? Only time will tell. But, if I were a betting man, I'd put my money on Allen getting the promotion.
The Saints Have Some Serious Cap & Personnel Issues
According to a lot of NFL experts, the Saints Head Coaching job is one of the least desirable due to all the cap and personnel issues the Saints face. First off, the franchise is currently a record breaking $74 million over the salary cap. And there's no quick and easy way to solve their issues. So, the Saints likely will have to dump a LOT of their star players just to get under the salary cap. And then they're going to need a quarterback. And they're going to have to rebuild with very limited draft picks.
So, everyone from Cam Jordan to Malcom Jenkins could be on the move. The Saints will need to go into full rebuild mode. And it'll probably take more than a year or two to dig out of. Will a new head coach be able to navigate those waters for a few years to the satisfaction of the front office and fan base? It's going to be hard and will need a special kind of coach to endure and right the ship.
And oh, the Saints will still need a quarterback.
What Will the Saints Do at Quarterback?
Right now, the Saints QB room contains Ian Book and Taysom Hill. The Saints have signed former Jags QB Blake Bortles to a futures deal...but there's no guarantee he gets a roster spot. Jameis Winston is set to be a free agent. And, as mentioned above, the Saints are $74 million over the salary cap...so, there's no cash to trade or sign a Russell Wilson, Kirk Cousins, Aaron Rodgers or Deshaun Watson if they became available.
The Saints do have the #18 pick in the draft. Could there be a QB there? Maybe. But, after they get done dumping all the talent they're going to have to get rid of, that pick may be best used for someone other than a Quarterback.
It's Always Darkest Before Dawn
Look, things are not looking good for the Saints. Within the past two seasons, they've lost a Hall of Fame quarterback and the Coach that helped turn the Aints into annual Super Bowl contenders. The next year or two are probably going to be rough. Some fan favorites will be cut or traded. The team probably won't have a winning record for a season or two. It's going to get ugly.
But, with that said, there is some light at the end of the tunnel. With the right leadership, some future draft picks and getting their salary cap in order, this Saints rebuild only last a year or two. The short term may suck, but with a little patience, in 2 years or so the Saints could be contenders again. I mean Payton had a stretch of 7-9 seasons and nobody seemed to mind. If fans give the new guy, whoever it may be, a chance to get the house in order, I think the Saints might be able to bounce back quicker than most franchises. This may be more like a Patriot rebuild than a Cleveland Browns - this team shouldn't take a decade to rebuild...but it will take at least 2 seasons. Maybe 3.
Current NFL Players from Shreveport Bossier Area
Top 5 Most Loyal Fanbases In The NFL In 2021
5 Netflix Titles With New Orleans In A Starring Role