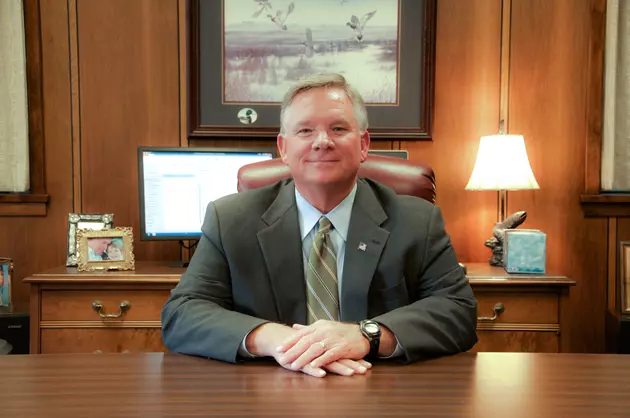 Bossier Schools Superintendent D.C. Machen is Retiring
Photo courtesy of Bossier Parish Schools
Bossier Parish's schools superintendent is hanging up his hat, so to speak.
D.C. Machen announced at last night's Bossier School Board meeting that he's retiring, with a tentative date of July 1.
I asked him what brought him to this decision. He said after 42 years, it's time.
"Back in August of 2013, the [Bossier Parish School] Board blessed me with extending my contract through December 31st of 2016. I shared with the board at that time that that would be 42-and-a-half years, and that I would not anticipate that I would be seeking another contract extension after that."
He said he thought it was time to look into opportunities to enjoy his life, and thought it best to announce his retirement before the start of the 2016-17 school year.
Machen said what he'll miss most about his job is being able to work with outstanding educators, and seeing the accomplishments and successes of outstanding students.
"Many of the students, because of the number of years of experience that I have, are second-generation students, where I actually taught their students," Machen said. "Many of the colleagues that work in our system in the teaching role were actually students of my former students. So I've had the opportunity to be involved in the process and see how [it] has evolved."
So, what are his plans for the future? He told me they mainly revolve around family.
"I'm blessed with a wife of 43 years that's been retired for several years, and she's looking forward to us having the opportunity to do some things that we've been limited in our abilities to do due to work schedules and so forth. And I'm blessed with eight wonderful grandchildren, and I look forward to having the opportunity to be able to participate in their activities."
Machen said he also loves to fish and hasn't done it for several years. He'll be able to head to the lake when it's not so crowded and the fish are really biting.
"I think what I will do is take some time and enjoy that and those opportunities, and look forward to what God has planned for me," he said.
School Board President Samm Darby has appointed District 5 representative Mike Mosura to lead the Superintendent Selection Committee. The group expects it to take two to three months to look for Machen's replacement.
Mosura plans to hold the first meeting by the end of next week. He said it's his desire to have a new superintendent named in May, so Machen can assist with the transition.