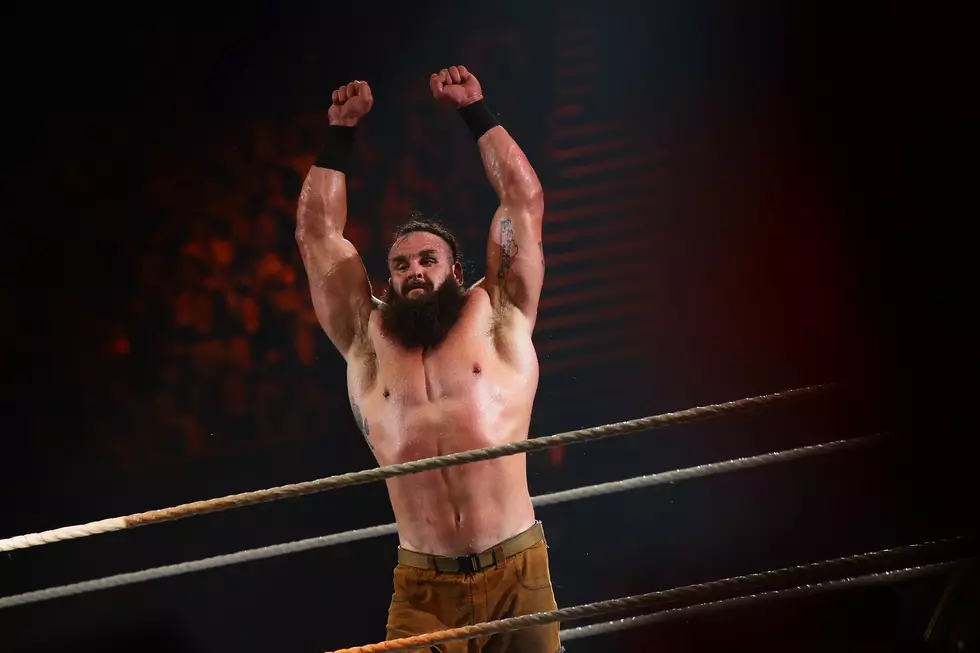 Bossier City's Summer 2018 WWE Show Was Big In Hindsight
Photo by Suhaimi Abdullah/Getty Images
Just after the COVID-19 cancellations started, one of the first victims was a massive WWE Live show set for Bossier City. It was a Road To Wrestlemania show that was scheduled for March 22nd, and the lineup was big. The card was set to include recent champions Roman Reigns and Bray Wyatt, as well as Smackdown Women's Champion Bayley.
But all of the went away, along with nearly every other live event across the United States in 2020.
Which has left us feeling nostalgic for some of the shows we did get to see. That leads us to a show that Bossier City hosted in the summer of 2018.
Two years ago, Bossier City welcomed in a big list of talent for a Sunday night show. The night was pretty good, with names that may not have been major stars at that point, who are now on Hall of Fame paths today. First, let's look at the card, and break down the improvements to some of those careers:
-Bobby Roode beat Mojo Rawley
-WWE Cruiserweight Champion Cedric Alexander defeated Kalisto
-Dolph Ziggler and Drew McIntyre beat Titus O'Neil and Apollo Crews
-Baron Corbin defeated Chad Gable
-WWE Intercontinental Champion Seth Rollins beat Elias
-RAW Tag Team Champion Bray Wyatt beat Bo Dallas
-Sasha Banks, Ember Moon, Bayley and Natalya defeated Liv Morgan, Sarah Logan, Mickie James and Alexa Bliss
-Roman Reigns, Braun Strowman and Finn Balor beat Sami Zayn, Kevin Owens and Jinder Mahal
So, let's start with Drew McIntyre. Back in the summer of 2018, McIntyre was on his comeback tour with WWE. He had been fired years prior, then worked his butt off through the indies, and worked his way back to NXT. After a run as NXT Champion, he got the main roster call. Now in 2020, after continuing to bust it for the last few years, he is your WWE Champion. He became the first British WWE Champion when he won the belt from Brock Lesnar at this year's Wrestlemania.
Another person in that match, Apollo Crews, has also made some big improvements since that night in 2018. Crews currently holds WWE's United States Championship, his first title he's ever held in WWE.
Moving on, we have Baron Corbin. For his entire WWE run, he's been looked at as one of the most hated wrestlers the company has to offer. Which isn't a bad thing actually, because remember...heels are there to get heat. Just before this Bossier City show, Corbin had been given an "authority position" on TV as Raw's Constable. That eventually grew into a term as Raw's General Manager. A very high profile role withing WWE's TV universe. He rode that wave into winning the 2019 King of the Ring, another pretty high position inside WWE.
Seth Rollins has been a major constant in WWE for a long time, since this night in 2018, he's gone on to become a Grand Slam Champion. He's became only the 19th Grand Slam Champion when he hit that milestone, which has essentially locked him in for the Hall of Fame one day.
Bray Wyatt's stock hit all times highs after this summer night in 2018. When he debuted his new character, The Fiend, it was an instant smash success. It was so big, Bray earned his second ever major WWE Championship when he won the Universal Championship. The Fiend gimmick is so over, that he was allowed to use a custom championship belt, something very few icons have ever been allowed to do.
Bayley came to Bossier City in 2018 as one of the biggest baby-faces in all of wrestling. She was the happiest wrestler there was. But after she took a dip into heel territory, she's never been better. She's currently enjoying a LONG run as the Smackdown Women's Champion, and has a storyline brewing with Sasha Banks that has 5-star written all over it.
Braun Strowman is currently your WWE Universal Champion, a title he won at this year's Wrestlemania. This dude is a legit Monster, and has seen his popularity continue to grow every year. He's the kind of guy who is going to have multiple titles on his resume by the time he makes his way into the Hall of Fame.
Looking back on that night in 2018, we got to see both of WWE's current major male champions, and one of the current Women's Champions. Not to mention that Seth Rollins, Roman Reigns, Jinder Mahal, Dolph Ziggler, Kevin Owens, and Finn Balor have all held major titles in their careers as well. Of the 20 male wrestlers who competed that night in Bossier City, 8 of them have been World Champions before. Almost HALF of those guys from that night!
On the women's side, of the 8 women who performed that night in Bossier, 5 of them have been World Champions as of now. Bayley currently holds a title, while Sasha Banks, Natalya, Mickie James, and Alexa Bliss have all held Women's World Championships as well.
In hindsight, that was a wild night, even if we didn't know how big it would eventually be.
READ MORE: Louisiana Cities As Old School Pro Wrestlers