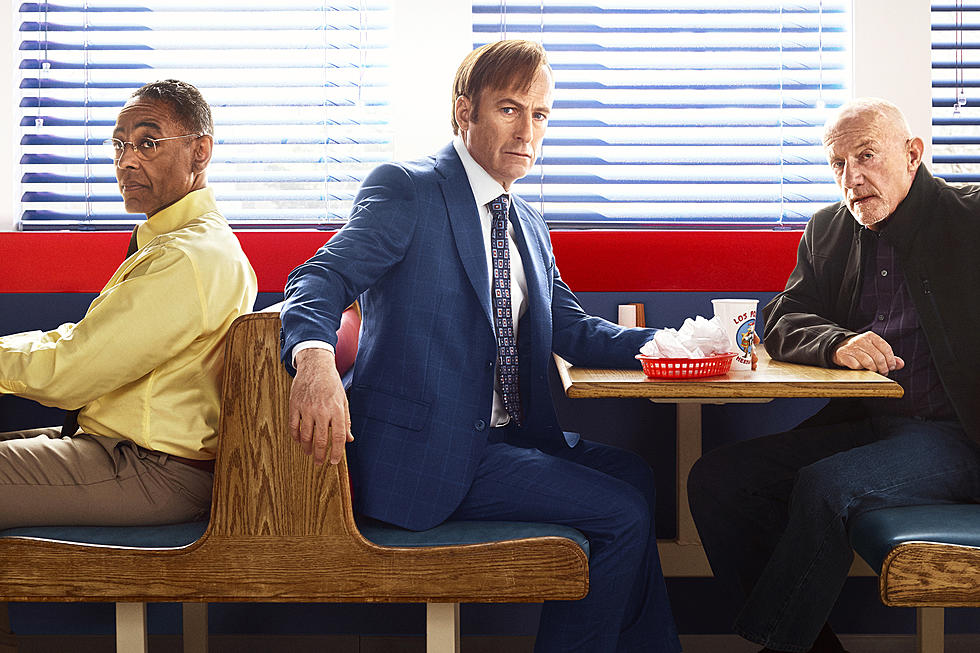 First 'Better Call Saul' Season 4 Promo Teases the Return of Two 'Breaking Bad' Villains
AMC
It's been a whole year since the climactic fiery end of Better Call Saul's third season, and we've been anxiously waiting for more ever since. After a later-than-usual production start, Jimmy McGill will be back later this summer, along with two favorite Breaking Bad villains with killer shoe style.
The first footage of the new season has finally arrived, and while it's only a brief 15 seconds, it's full of details. The Cousins are back baby, and they've got their classic skull-tipped burgundy boots. We don't get a good look at them, but it's the first time Leonel and Marco Salamanca will be back on the prequel series since they first taunted Mike back in Season 2. There's no Jimmy, Mike, or Kim to be seen in the teaser, but it offers a quick peek at Victor tossing some bricks on a table for (presumably) Nacho, a pill bottle, an unknown man getting gunned down, a burning car, and Gus reminding some fool that he's a little busy right now.
The third season of Better Call Saull ended on quite a cliffhanger with – spoiler alert for those not caught up – Jimmy's older brother Chuck seemingly committing suicide by kicking over a lantern inside his home. Star Michael McKean and producer Peter Gould have made it pretty clear in interviews that Chuck is indeed dead, but that doesn't mean McKean won't be back for some flashbacks.
While the Season 3 finale took place in 2003, leaving a pretty big gap before the events of Breaking Bad in roughly 2009, Vince Gilligan has promised that the overlap between the seasons will grow bigger than ever before this season. We can expect a "very important" Breaking Bad character to appear in Season 4, though one we never technically saw on screen. That person is Lalo.
As Breaking Bad fans will remember, in Bob Odenkirk's first appearance in the second season (in the episode aptly titled "Better Call Saul"), Walt and Jesse kidnap Saul and take him out to the desert. A panicked Saul assumes they've been sent by this Lalo. Based on his terror, and the relief that they have nothing to do with this mystery character, we can bet Lalo will be quite a presence in Better Call Saul.
Stay tuned as more updates and the full trailer eventually rolls in. Better Call Saul returns on August 6.