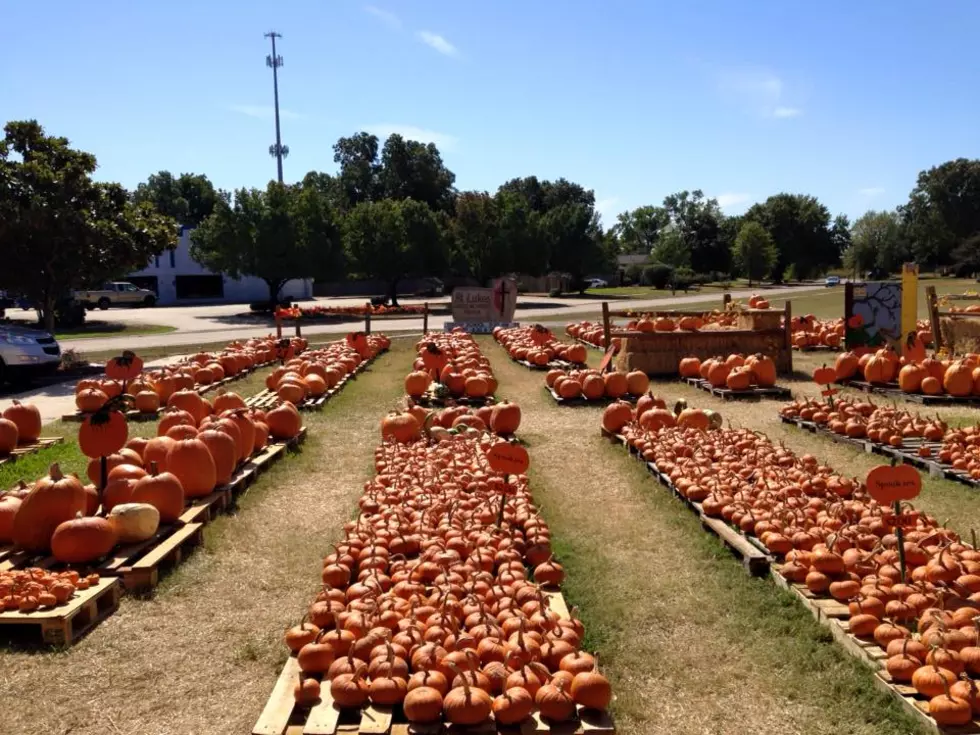 Over 13 Spooky Events for Halloween in Shreveport
St. Luke UMC
Shreveport Bossier has a long list of great events to enjoy for the Halloween season. Here are some of the top selections.
A local, non-profit event celebrating a love for Zombies and all things rotting!
Saturday, October 21st at Pierre Bossier Mall. This spooky event includes vendors, guests, costume contests, and door prizes. It's happening from 4-9pm.
This is happening at the church on Airline Drive in Bossier City. It's open every day through October 31 from 9 a.m. to 7 p.m. (noon- 7 p.m. on Sundays). Admission is free, but bring money to purchase pumpkins and treats.
St. Luke's UMC has provided the community with the pumpkin patch since 1990.  The pumpkins will arrive on October 1st. The pumpkin patch is open daily from 9am-7pm. The pumpkin patch will remain open till October 31st or until they sell out of Pumpkins. In the past twenty years, the Pumpkin Patch has donated about $200,000 to missions.
The 25th Anniversary of this community event is set for Tuesday October 24th at Betty Virginia Park in Shreveport. Hundreds of carved pumpkins shine along pathways of the park. Admission is free, and there is food and entertainment for all ages.
Tuesday, October 24th with lots of fun activities for the kids.
Faith Farms Arena in Elm Grove has a corn maze, a petting zoo, face painting, a bounce house and more to make sure the fun doesn't end once you find your way out of the maze. Hours of operation for Kernel Kobb's Corn Maze (located at 1145 Hwy. 527, Elm Grove) are 8 a.m. to 3 p.m. Monday — Friday by appointment only; 5 p.m. to midnight Friday; 10 a.m. to midnight Saturday; 1-7 p.m. Sunday. Admission cost is $10 for adults, $8 for children 3-11 years of age, and free for children 2 and under. The Taylortown Dark Arena Haunted House Haunted House is open 7:30 p.m. to midnight Friday and Saturday and is closed on Sunday. Admission cost for the Haunted House is $15.
Corn Maze and family fun. Open September 23-October 31st. Sunday-Thursday 10am-7pm. Friday and Saturday 10am-Midnight. Maze is on the Sentell Road North of Shreveport. They will also have haunted attractions operating on Friday and Saturday nights and on Halloween night.
In the Provenance neighborhood in South Shreveport. This will run October 1st-30th. The pumpkin patch hours are Monday-Friday 3:30pm-6:30pm and Saturday and Sunday 10:30am-6:30pm.
Walk in the haunted woods at your own risk for a thrilling experience! This scary attraction is for all ages.
Dates Open
September 29, 30:  7:30-11 p.m.
October 6, 7, 13, 14, 20, 21, 27, 28:  7:30-11 p.m.
Halloween Night: 7-10 p.m.
Prices & Discounts
All tickets are $13
Military & First Responders tickets $10
This local event has moved to the Louisiana Boardwalk near the bridge. This haunted house will feature a brand new show this year. October 6th-31st.
Online Advance Ticket ...............  $15.00
Manor Box Office.........................  $15.00
Runs October 13th-November 14th. Features two exhibitions – the Collection of "Closet Curiosities" - Halloween décor and ephemera from William Joyce, featured on three separate Martha Stewart Halloween television shows, and InGRAVED, an exhibition of Artworks InSPIRED by the tombstones and history of Forest Park Cemetery. Weekend entertainment will feature a "Fall Street Fest" with Apple Eating, Pumpkin Carving, Arts and Crafts, Live Bands, a Haunted Cemetery Tour, and more with activities programmed to span four weeks.
Shreveport Opera Presents "Queen of the Night: A Halloween Party"
October 13th, the Shreveport Opera presents "Queen of the Night: a Halloween Party" at JR Gallery & Performance Space/Events on the Red in Shreveport at 8 p.m. Adult admission is $30. The party will be hosted by the one and only Queen of the Night Sarina Styles, featuring music from the area's hottest DJ, Jay Whatley.
Annual 'Ghosts of the Past' Battlefield Tour at the Mansfield State Historic Site 
On Saturday, October 28, Mansfield State Historic Site will re-create the gruesome aftermath of a Civil War battle by taking visitors on a special night tour of the Mansfield battlefield. Authentically costumed tour guides will take visitors onto the battlefield by candle lantern, where reenactors in period dress will act out various scenes at stops along the trail. Tours will last about 25 minutes, and will be ongoing during the program's two-hour run. Tours kick off at 7:30pm. Mansfield State Historic Site is located on State Highway 175, three miles south of Mansfield. For more information, call 318.872.1474 or 888.677.6267.
The historic Logan Mansion, built in 1897, will once again host its popular haunted candlelight tours for Halloween. Guided tours exploring the house will begin every 20 minutes, 6-9pm. Admission is $10 "per living person," and tours last approximately one hour.  Saturday, Oct 28th 6-9pm and Tuesday, Oct 31st 6-8pm.