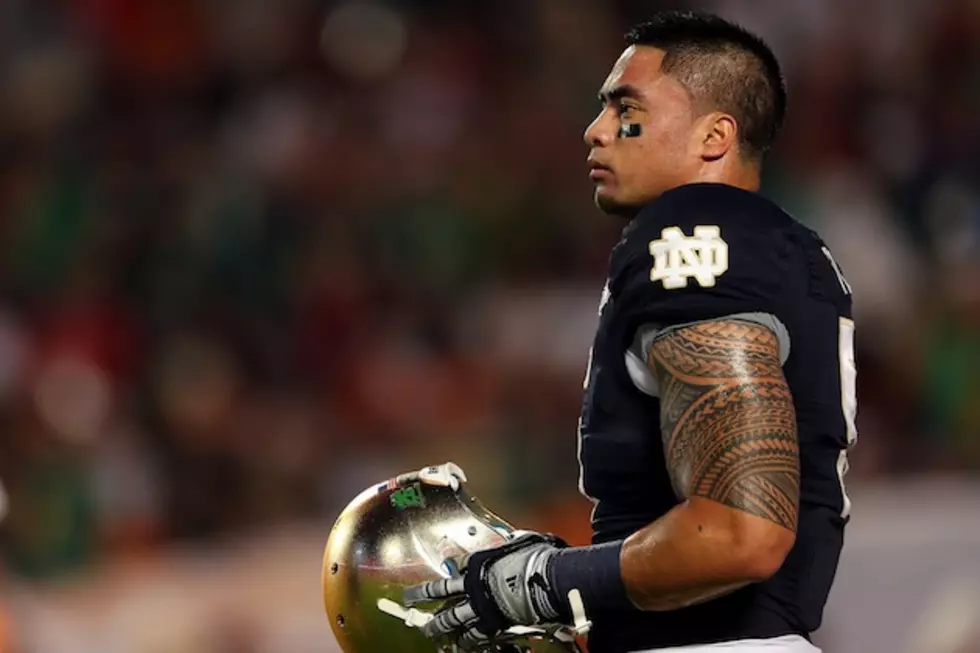 Manti Te'o Denies Role in Hoax, Admits 'Tailoring' His Stories
Mike Ehrmann, Getty Images
Notre Dame linebacker Manti Te'o denied any role in the hoax involving a relationship with a person whom he claimed was his girlfriend last year. During a Friday night interview with ESPN's Jeremy Schaap, Te'o also admitted he "tailored" his stories about the relationship in order to make people believe he had met the woman before she died.
Te'o said he was not certain that his girlfriend "Lennay Kekua" never existed until being informed of the hoax on Wednesday by Ronaiah Tuiasosopo, the man allegedly behind the scheme with another man and a woman.
During the interview with Schaap on Friday at IMG Training Academy in Bradenton, Fla., Te'o denied any involvement in the hoax.
"No. Never," Te'o said to Schaap. "I wasn't faking it. I wasn't part of this."
Te'o told Schapp his relationship with Kekua started over Facebook. He claimed he "tailored" his stories to make people believe he met Kekua before she died months after allegedly being involved in a car crash and getting diagnosed with leukemia.
"I knew that -- I even knew, that it was crazy that I was with somebody that I didn't meet, and that alone -- people find out that this girl who died, I was so invested in, I didn't meet her, as well. So I kind of tailored my stories to have people think that, yeah, he met her before she passed away, so that people wouldn't think that I was some crazy dude," Te'o said.
Te'o planned to use video chat services Skype and FaceTime to speak with Kekua several times, but he was never able to see her, he said. Several planned meetings between the two were called off by Kekua, Te'o told Schaap.
The off-camera interview was the first time the Heisman Trophy finalist spoke about the hoax, which was first reported by Deadspin.com on Wednesday. The website revealed that Kekua, the woman whom Te'o claimed to be his girlfriend — and who died within six hours of his grandmother, Annette Santiago, in September — never existed, despite media accounts of Te'o claiming to have met her and touched her. Te'o denied the latter on Friday.
"I'd never told anybody that I've touched her hand," he told Schaap.