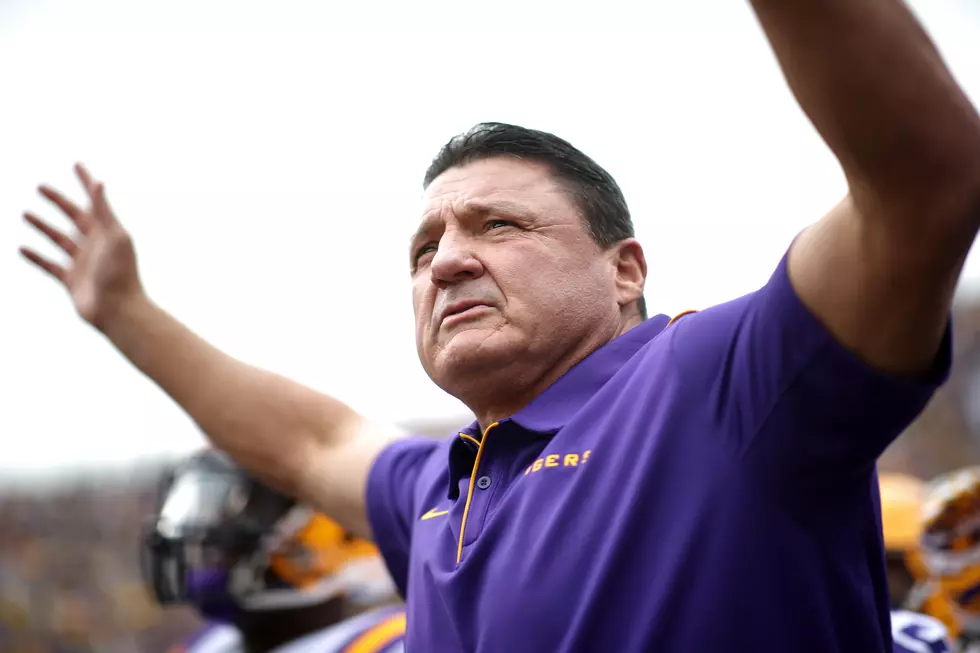 LSU Moves Up To #1 In AP Poll, First #1 Ranking Since 2011
Photo by Chris Graythen/Getty Images
Two weeks ahead of their matchup with Alabama, the LSU Tigers jumped the Tide in the rankings to earn their first #1 ranking in 8 years.
The Top 25 AP Poll was released Sunday, and LSU moved up from #2 to #1, while the Tide fell from #1 to #2.
It's one of the closest polls ever in regards to the voting difference between #1 and #2.
LSU earned 1,476 points, only 2 more than Alabama.
The last time the margin between #1 and #2 was as close was October 5, 2014, when Florida State was 2 points ahead of Auburn on Oct. 5, 2014.
The ranking won't matter in 13 days when Bama hosts LSU, as the winner will be the clear cut #1 with a margin much wider than 2 points.
AP Top 25 (October 27, 2019)
1. LSU (17) 8-0
2. Alabama (21) 8-0
3. Ohio St. (17) 8-0
4. Clemson (7) 8-0
5. Penn St. 8-0
6. Florida 7-1
7. Oregon 7-1
8. Georgia 6-1
9. Utah 7-1
10. Oklahoma 7-1
11. Auburn 6-2
12. Baylor 7-0
13. Minnesota 8-0
14. Michigan 6-2
15. SMU 8-0
16. Notre Dame 5-2
17. Cincinnati 6-1
18. Wisconsin 6-2
19. Iowa 6-2
20. Appalachian St. 7-0
21. Boise St. 6-1
22. Kansas St. 5-2
23. Wake Forest 6-1
24. Memphis 7-1
25. San Diego St. 7-1