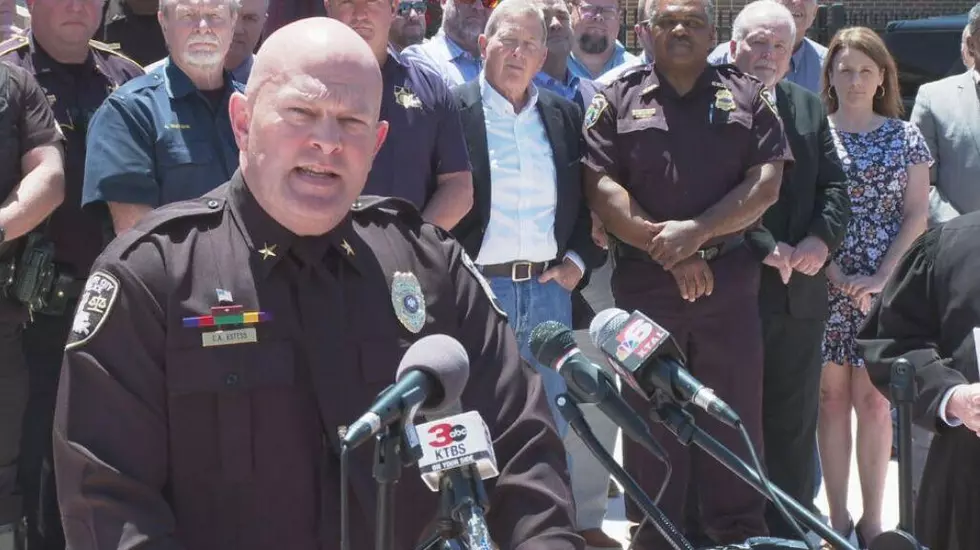 Bossier Police Chief Ousted By Civil Service Board
Photo courtesy of Gerry May KTBS
Bossier City will be getting a new police chief. The Fire and Police Civil Service Board has removed Chief Chris Estess as chief. This decision was made after Mayor Tommy Chandler asked the board to remove Estess from the post.
What Did Bossier Mayor Have to Say About This Move?
Regrettably, I have been forced by the actions of Estess to move forward with a request for approval from the Civil Service Board to remove him from the position of Chief of Police. I appreciate the work of the Civil Service Board and thank them for their careful consideration of this difficult decision. On behalf of the men and women who wear the badge, I am committed to appointing a leader who can unite the department and lead them with confidence, fairness, and respect.
KTBS reports Estess was not at the Civil Service Board meeting.
The report says City Attorney Charles Jacobs gave the board a report about Estess' performance as chief before the Board went into executive session to talk about removing Estess from the post. Jacobs told the board Estess failed to discuss major decisions with the mayor.
The city attorney also pointed out problems with Estess providing proper supervision in his department.
Mayor Chandler Issued this Statement:
As I lead Bossier City into the future, I am faced with making many difficult decisions. The citizens of Bossier City deserve and expect excellence from their public servants, especially those who have taken an oath to serve and protect. The Bossier City Police Department has long been a great source of pride for our community and it will remain so under my leadership as Mayor of Bossier City.
Estess was named police chief by Mayor Chandler on April 26. Estess replaced former Chief Shane McWilliams, who was placed on paid administrative leave after he refused to be re-assigned to desk duty when Chandler took office.
What Are the Worst Intersections in Bossier City?
These are the places you are most likely to be in an accident in Bossier.
5 Worst Places to Run Out of Gas in Shreveport Bossier
This could be a list of 20 spots, but we narrowed it to the top 5.