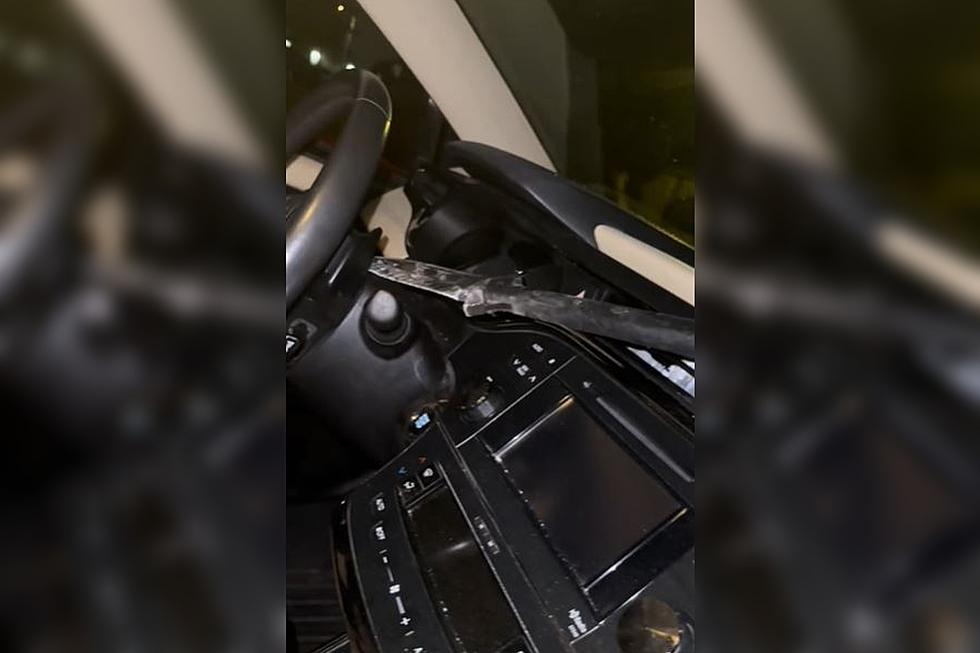 Woman Has Spear Thrown Through Windshield While Driving in San Antonio
TikTok
Great. Now we have to worry about someone randomly throwing a spear into our vehicles in Texas.
Sure, people always start to act a little more hostile when it gets hot outside – especially when we're dealing with nonstop triple-digit temperatures. But it seems like the acts of violence have been increasing regardless of the weather.
From road rage incidents to crazy street brawls and pretty much any sort of violent act you can think of, they are aplenty here in the Lone Star State.
And now we have a case of someone going straight-up medieval here in the state.
A woman in San Antonio posted a video of the aftermath of someone throwing a spear into her car. She says it wasn't connected to any sort of road rage incident nor was it someone she knew. It was a completely random act.
Thankfully, the spear missed the woman, but not by far. As you can see in the video, it was lodged in the steering column. If the person who threw the spear had waited just a little bit longer or if the woman had been driving a little bit faster, there's a good chance she wouldn't be here today.
Hopefully, this is an isolated incident. But I know if I lived in the area where this happened, I would be a little more aware of my surroundings while out for a drive.
Top Ten Trashiest Towns in Texas
Time to take out the trash or show off the trash of Texas. Check out the top ten below.
(All crime statistics were pulled from
www.neighborhoodscout.com
based on each individual town. See editor's note for Lufkin, Texas.)
Unsolved: These Are The Top Texas Cold Cases
The Texas Rangers keep an updated website on the top cold case investigations in the state. They currently date back to 1979. One case is from Lubbock County.
Ranking East Texas Cities for Safest Communities
Here is a look at some of the safest cities in East Texas and where they ranked compared to all cities in Texas.