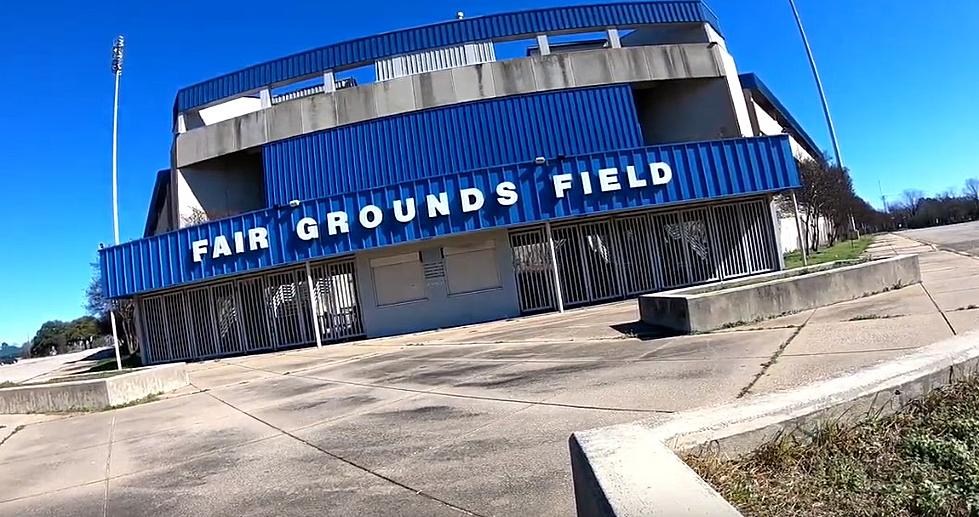 Demolition at Fairgrounds Field in Shreveport Is Halted
Chavez Gipson via Youtube.com
The demolition work at Fairgrounds Field in Shreveport has stopped for now. A Caddo District Court Judge has issued a Temporary Restraining Order halting the demolition work.
Friends of Fairgrounds Field sued the city of Shreveport asking a judge to stop the destruction of the complex. They want a permanent injunction and will take their arguments before judge Brady O'Callaghan during a hearing at 9:30 Thursday morning.
What Is the Big Issue at Fairgrounds Field?
The group points to the sloppy handling of bat guano at the dilapidated ball park. The plaintiffs did an inspection of the complex and saw lots of bat droppings at the site which they claim could cause a public health issue. They have concerns about spores from the bat guano getting into the air causing respiratory illnesses to residents around the facility.
Henderson Construction Services got a call from the city Monday afternoon to let them know about this latest development and they immediately halted the demo work. The construction company has a $500,000 contract with the city to handle bat removal and demolition of the ball park.
Local businessman Linc Coleman has also been trying to save the ball park. He says it can be refurbished and put back to use by local sports teams and Caddo Schools.
History of Fairgrounds Field
The stadium was built in 1986 to house the Shreveport Captains, a minor league professional baseball team in the Texas League, and a "farm team" for the San Francisco Giants for more than two decades. The Swamp Dragons and other teams tried to make a go of it at the ballpark, but things were never the same and attendance was dismal. In 2011, the facility was locked up and ultimately condemned. Bats took over the property and made it a home.
50+ Pictures of Shreveport's Abandoned Historic Fairgrounds Field
Before you know it, Shreveport's historic Fairgrounds Field will be will be exactly that - history. Once the legal wrangling is done, the proverbial endangered-bat-guano will hit the fan and the once glorious Ratchet-City cathedral to baseball will be demolished and gone.
Before it "bats" its final inning, let's take a final look at the glory that once was. I warn you though, it's kind of like seeing that super-hot girl from high school 20 years later - and time has not been kind.
These awesome pictures were provided by urban photographer extraordinaire Ron DeBello.
WARNING: Under no circumstances should you enter this property. By doing so you risk bodily harm and/or prosecution for trespassing on private property.
Most Valuable Franchises in American Sports
Five of the ten most valuable franchises in American sports come from the NFL.